English was a fifth language for the young Yousuf Ahmad as a freshman in college, soon after his emigration to the U.S. from Abu-Dhabi, UAE. Not keen on joining a class to improve his language skills, Ahmad opted for an unusual way to brush up his proficiency in English—by playing the word game Scrabble. Driven by his fervor to learn while thinking out of the box, it did not take long for Ahmad to master English but also become an international Scrabble player. Today, sitting in his modest office in Cincinnati, Dr. Yousuf Ahmad, CEO at AssureCare, injects the same innovation to overcome challenges in the marketplace. In a time when the healthcare industry is in a continual flux owing to uncertain regulations, scientific advancements, and global economics, AssureCare's extensible and flexible solutions are helping enterprises anticipate change. "These solutions are also aimed at breaking down data silos that hinder operational efficiency and lead to poor workflows," remarks Ahmad. To deliver best possible collaboration across the complete continuum of care, AssureCare offers a cloud-based health management software, MedCompass, that dramatically improves patient outcomes and reduces costs.
Facilitating real-time care management through a fully integrated database, MedCompass coordinates all interactions using collaborative workflow management. Being a cloud-based plug and play solution—MedCompass negates the need for client-server architectures. The software is fully compliant with the HIPAA Electronic data Interchange Rules, and security requirements are enforced at multiple levels of the software. The solution is also built on a strong rules-based engine that applies logic and is highly customizable. "Since clinicians use our technology for long hours in a day, it is essential that our software is meaningful and catalytic. For example, if you are conducting an assessment of an asthma patient, our solution delivers the correct binomials and discrete values, all based on logic," says Ahmad. A user can capture and assess real-time business intelligence through a graphically based workflow and design ad hoc standard reports. Moreover, recognizing a need for advanced metrics in the arena of population health data, AssureCare is investing heavily in delivering value analytics that cares teams can use to improve performance and operations. "Ultimately at AssureCare our goal is threefold: to improve the quality of care, reduce the cost of care, and enhance customer engagement," he adds.
Going beyond care coordination, MedCompass facilitates case utilization and disease management. For instance, case managers can seamlessly synchronize decisions made by different kinds of experts, whether it is a physician, dentist or a surgeon for optimum care plans and patient experience. For optimum client benefit, MedCompass can easily be tailored to fit different States. In the case of a large State in the U.S. that was facing challenges with their legacy system; AssureCare came in and replaced the old case management tool with MedCompass. "In a matter of days we trained thousands of users on our platform, validating on our need to be agile and cutting edge," exclaims Ahmad. To ensure that customers always have the right tools and resources at hand to overcome business challenges, AssureCare partners with industry bigwigs like Tableau Software, a data visualization company. These partnerships enable AssureCare to add further value to their products, for example, Tableau Software enhances AssureCare's front-end technology, rendering it compatible with any device or platform.
With twenty years of experience in the market, a key to AssureCare's success is their competent team of industry experts that conduct extensive research and development. "Whether it is government sponsored healthcare or the commercial sector, our team ensures that a client receives deep functionality and support from our solutions," notes Ahmad. Before deploying any solution, AssureCare engages in several testing cycles for maximum client benefit. Apart from baseline testing where suitable technologies are added to the solution, the firm conducts thorough stress testing. To gauge the tenacity of the solution under extreme cases, a client is asked to overload the solution, and just before officially launching the product, AssureCare triples the stress capacity to reduce any chances company also has a strong training regiment in place to eliminate any dubiety related to the software. "Being fully aware that our solution involves lives which are at stake, we leave no room for errors, mediocrity, or complexity," propounds Ahmad. Firmly believing that workflow management should result in better care management for human life, the company is currently working on a Medication Therapy Management (MTM) solution. Since polypharmacy or the use of multiple medications is a growing concern among the population, especially the elderly, MTM accelerates patient adherence and utilization of medication, along with greater cost savings and effective use of drug therapy. The new solution will help manage medication regimens and track pharmacies, safeguarding wellness for all. In addition, AssureCare is designing a case management platform for addiction clinics, in concert with client requests. "We are partnering with industry leaders who have deep knowledge in the realm of substance abuse and addiction medicine and building a solution that can be leveraged globally,"informs Ahmad. As a part of the technology evolution, the firm has introduced a member portal that unifies the database of a care team to generate intuitive notifications of the clinical processes on the application dashboard. Moreover, the company also offers a provider portal that enables State policies based authorization approval for healthcare enterprises to serve in patient's care domain.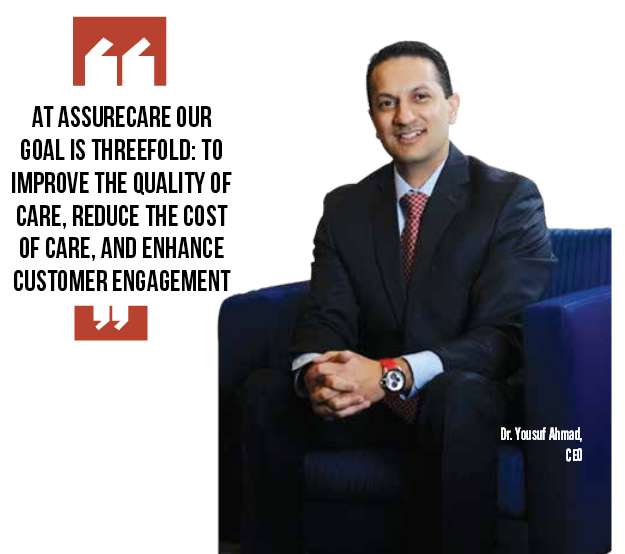 Always keeping up to date with altering market conditions, As asureCare's sole business focus is to introduce advanced technology solutions that facilitate positive outcomes for care teams. Following the passage of the Patient Protection and Affordable Care Act (PPACA), industry players are vehemently reassessing the delivery of care and to keep in line with prevailing market conditions, AssureCare is working on a financial solution. "A healthcare bill in America is ascertained as one of the most complicated pieces of transcript ever known to mankind, and our solution will break down expenditures for a consumer into benefits, deductibles, insurance and auto payments," says Ahmad. Furthermore, the U.S. spends more per capita on healthcare than any other nation and estimates from the Centers for Medicare and Medicaid Services suggest that by 2020, the country will spend $4.6 trillion on healthcare—20 percent of the U.S. GDP. In such a scenario, bundled payments are perceived as the most effective form of payment that reduces healthcare costs and AssureCare is infusing bundled payments for care improvement in their technology infrastructure.
Moving forward, as part of their evolution plan, AssureCare will be broadening their services to retirement homes, home health and hospice, addiction clinics, and nursing homes. "While the market is replete with technology companies that offer healthcare solutions, we stand out from the pack, for being a healthcare company providing technology solutions," opines Ahmad. In days ahead, AssureCare will augment their products by practicing the highest level of ethics and integrity coupled with creativity and community building measures. In the era of digitally enabled care, where patients are transitioning from passive healthcare recipients to active value seeking consumers, for physicians, advanced technology tools are no longer a nice-to-have but a must have business imperative. Companies that integrate the right workflow management technology are bound to fuel high ROI and best possible outcomes across the continuum of care. "Disregarding the ever changing landscape of healthcare, we will actively engage in modernizing and transforming the system keeping in mind our values: creativity with process, quality with speed, aggression with ethics, frugality with class and humility with confidence," ends the CEO.